Lucky guests on board Acacia will have four gorgeous exterior spaces to choose from, each with their own unique features to make your stay unforgettable. Opportunities to enjoy outdoor living have been maximized with plenty of spaces to bask in the sun and relax. The generous al fresco areas are particularly well suited to large groups of friends or families. Guests can choose to sunbathe on her sky deck, take a dip in the water from her swim platform or retreat to the cooling shade of her aft deck – luxury and comfort are assured wherever you choose to spend your time. As a thoughtful touch, almost all the seating on board Acacia is arranged to make the most of panoramic views, allowing for the al fresco spaces to be enjoyed from morning until night.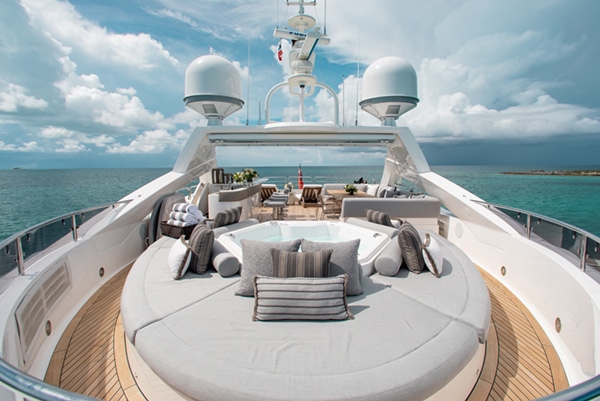 You will find the ultimate yachting set up on Acacia's sky deck. Take a refreshing dip in her six-person jacuzzi, lounge on her comfortable sofa seating, enjoy a delicious cocktail at the bar or have lunch al fresco on the dining table – all with unparalleled views of the cruising grounds. The speaker system and cluster of sun loungers also creates the ideal 'beach lounge' vibe. A true wow factor space, the sky deck will be home to all your best memories on board.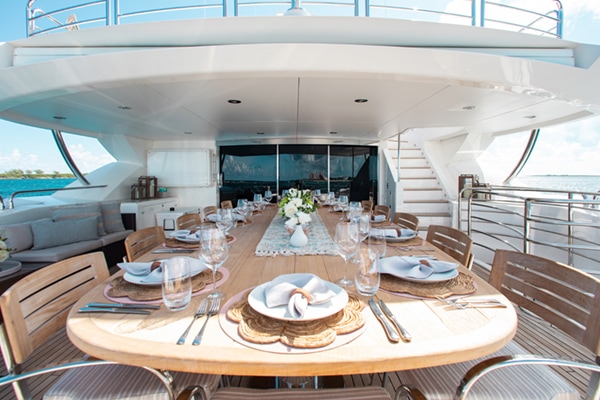 Unforgettable Al Fresco Meals
Gorgeous mealtimes await on Acacia's upper deck. As you sit at the grand 12-person table, take a moment to look at the horizon – changing every day as you drop anchor in your latest destination. Savor long lunches in the warm sunshine as you sit with friends and loved ones. After a day of fun on the water, relax under the stars as you delight in the themed dinners and bespoke menu the Acacia chef and crew have created for you.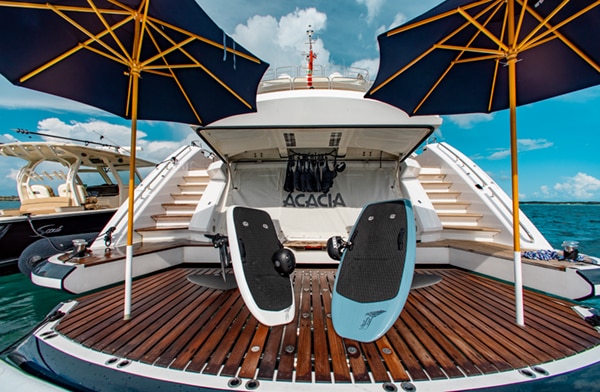 A yacht is a luxury floating oasis. At all times, you are just moments away from the clear blue oceans of your cruising grounds. The water can be your playground to try out new toys and water sports or just be a calming backdrop for your days spent sunbathing. However you wish to live by the water, Acacia's swim platform and inflatable beach club platform will be one of your go-to spots on board.
Imagine a sunset yoga practice or a biking session with views of the Atlantic Ocean, followed by a refreshing swim in the warm water. This dream can become a reality on board Acacia. The yacht's sky deck is fully stocked for guests to work out at their leisure – another reason why Acacia is an excellent choice for an active group – with fitness equipment, dumbbells, yoga mats, and more to stay fit and active while on board.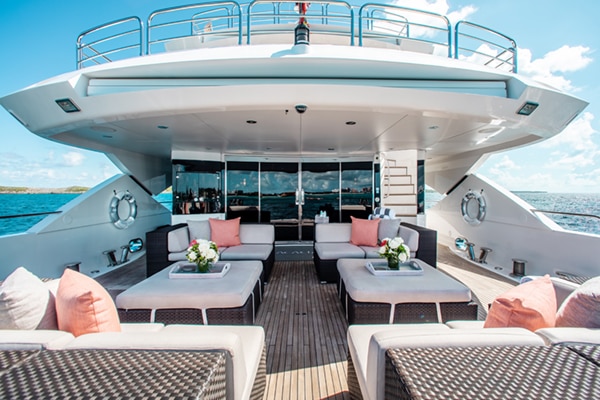 Gorgeous Spots for Group Hangs
Sit and enjoy an afternoon tea or sundowner cocktail on Acacia's versatile aft deck. With plentiful seating for all on board, this spot offers guests both shade and sunshine throughout the day. Sink into the comfy seats while you watch your loved ones in the water below or retreat from sunbathing and relax with a cold drink in hand. Offering fabulous views of the cruising grounds, the aft deck is an informal space ideal for large groups to socialise.