Fun for the whole family, the selection of toys and watersports equipment on board Acacia is unparalleled. Superyacht toys are all about bringing the action. From heart-racing wave runners to waterskis and standup paddle boards, charter guests can try all kinds of entertaining equipment (suitable for all levels) during their vacation. Fishing enthusiasts can catch the fish of the day from her Scout tender, while others can comfortably lounge on her inflatable beach club platform. Her sky deck is also home to an array of gym equipment to try throughout your stay – if you feel so inclined. For a slower-paced afternoon ashore, Acacia's crew can set up a picture-perfect beach picnic or barbecue; a totally unique way to enjoy your cruising ground's pristine sandy coves. Acacia's world of toys is your oyster.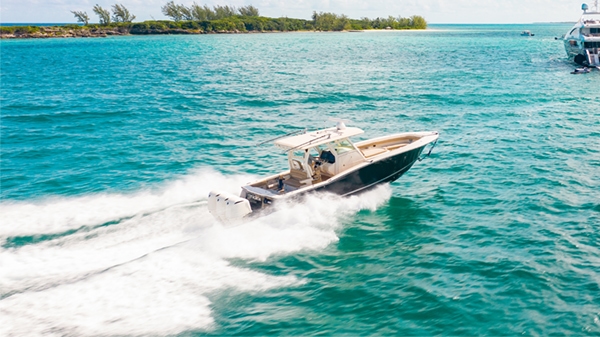 Acacia has two tenders to choose from – a 35 ft Scout LXF and a 19 ft Williams SportJet 350 – for guest use. The Scout Tender is a smooth, luxurious ride that can seamlessly transport you to shore or on daily snorkelling trips. A more action-packed ride awaits you on the Williams SportJet, which is the perfect platform for wakeboarding, water skiing and tubing. Guests can also use two Yamaha Waverunner VX Cruisers. Jump on to ride the waves, zip along the water and explore deserted coves.
35 Ft Scout LXF
19 Ft Williams SportJet 350
2 x Yamaha Wave Runner VX Cruisers
Explore the Tenders & PWC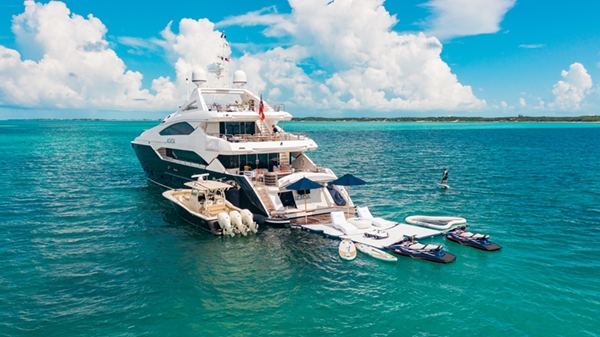 The large collection of water toys on Acacia delivers serious amounts of fun. Two Lift eFoil E3s, two SeaBob Cayago F5S, two Connolly Wakeboards and Water skis, Two Bote Inflatable Stand Up Paddleboards, a Bote inflatable kayak, towable tubes and an excellent array of diving and snorkelling equipment are ready and waiting to be used. Get ready for some heart-racing action on the calm blue waters of the Caribbean.
2 x Lift eFoil E3
2 x SeaBob Cayago F5S
Extensive Diving and Snorkelling Equipment
2 x Connolly Wakeboards
2 x Connolly Water Skis
2 x SUP: Bote 11'6″ HD Inflatable
Kayak: Bote Zeppelin Tandem Inflatable
Towable Tubes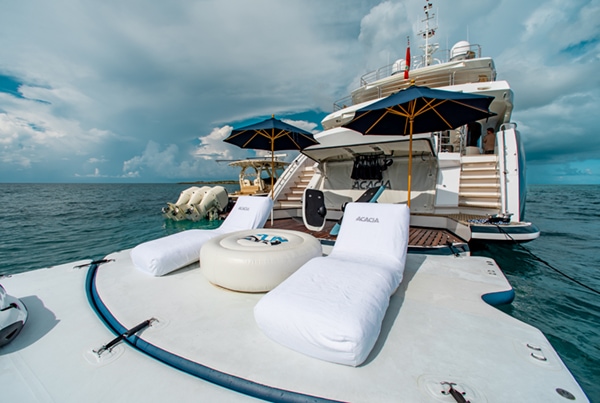 Inflatable Beach Club Platform
Acacia boasts several inflatable FunAir setups that elevate the on-water experience. With the FunAir Netted Beach Club Sea Pool, sunbathe in total comfort before jumping into a protected splash zone. A must-have for any charter yacht, the Inflatable Yacht Toy Dock allows for seamless access to toys and jet skis. The Inflatable Beach Club Platform is complete with loungers, so you can be a part of the action while reclining in style. Finally, practice your swing with the FunAir Yacht Golf Floating Green, and thanks to the innovative EcoBioBalls, your game will be worry-free.
Inflatable Beach Club Platform List
FunAir Netted Beach Club Sea Pool
FunAir Yacht Golf floating greens & EcoBioBalls
FunAir Beach Club Platform with Loungers
FunAir Inflatable Yacht Toy Dock
Explore the Inflatable Beach Club Platform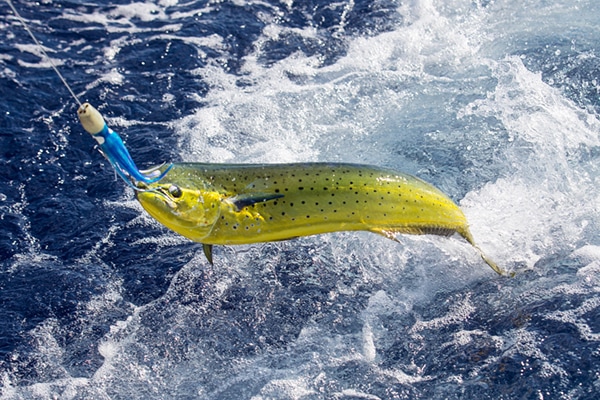 The Bahamas and the Caribbean attract fishing enthusiasts from across the world. Guests of Acacia can make the most of the abundant marine life while on a charter with her impressive selection of fishing equipment. Eight Shimano Fishing Reels and Plasma Rods, Trolling and Spinner Gear, ice boxes and even children's fishing rods are found on board. Spend a day at sea as Mahi Mahi, Tarpon, Swordfish, and Grouper await you in the warm Caribbean waters.
8 x Shimano Fishing Reels & Plasma Rods
Children's Fishing Gear
Spinner Gear
Trolling Gear
Explore the Fishing Equipment
Acacia's crew can set up a spectacular beach lounge on nearby sandy shores, with a Gybe Inflatable Tent and Neso Tent, two Royal Teak lounge and dining chairs with umbrellas, a massage table, tiki torches, and inflatable floats. Let ambient music play from the UEBoom Hyper Boom speaker while kids play with sand toys and water blasters. Adults can also join the fun with an array of beach games like corn hole, bocce ball or paddle ball.
10' x 10' Gybe Inflatable Tent & Neso Tent
2 x Royal Teak Lounge & Dinning Chairs w/ Umbrellas
2 x Dining Tables
Massage Table
Sports Gear: Football, Soccer, Frisbee, & Volleyball Set
Cornhole, Bocce Ball, & Paddle Ball
Children's Sand Toys & Water Blasters
UEBoom Hyper Boom Bluetooth Speaker
Tiki Torches
Funboy Inflatable Floats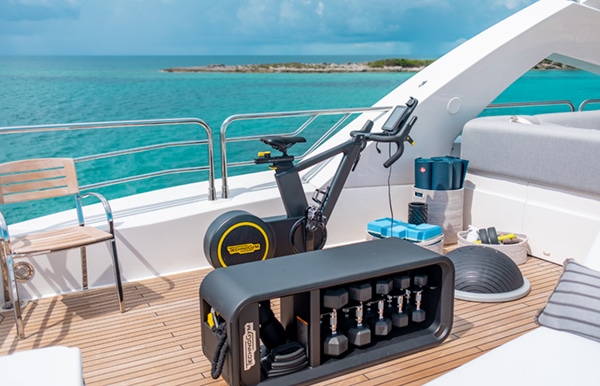 While some charter guests may want to sit back and chill for their vacation, others will want to maintain their fitness regime on board. Acacia offers an incredible range of health equipment. A state-of-the-art Technogym Skillbike to get your heart rate up, a jump rope for a cardio burn, and dumbbells for weight training. For lighter activities, try the quality Manduka Yoga mats, blocks, and towels and for optimum recovery, test out the innovative Theragun Elite tool.
Health and Fitness Equipment List
Technogym Bench with Gym Bands
Dumbbells, Knuckles, & Resistance Bands
Technogym Skillbike
Technogym Balance Dome, Jump Rope, & Foam Roller
6 x Manduka Yoga Mats & Towels
6 x Manduka Yoga Blocks & Straps
2 x Theragun Elite
Explore the Health and Fitness Equipment