Unwind in total luxury on board Acacia in one of her many pristine interior spaces. Guests can sit with loved ones to plan the day's adventures or relax in air-conditioned comfort following a long day in the sun. Thanks to her large volume, each of Acacia's rooms benefits from high ceilings and plenty of space for entertaining. Her large windows fill the interior with light and allow guests to enjoy the beauty of the cruising grounds from the inside. Acacia has a neutral design with sophisticated wooden features and is in exceptional condition following her 2022 refit. Particularly care has been paid to the small details on board, with modern art, vases filled with flowers, and interesting books to read. Plus, state-of-the-art audio and AV equipment mean that guests can select music of their choice, play video games or watch television throughout the charter.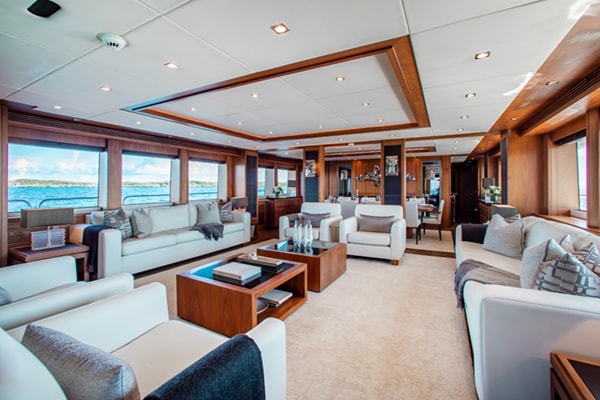 Acacia's main salon is the heart of her interior. The open-plan layout allows guests to seamlessly move throughout the yacht, with glass doors leading outside to the aft deck space. With plentiful seating options on her plush sofas and armchairs, the main salon is a versatile space that will be in daily use throughout your charter. The plush carpeting and welcoming soft furnishings will encourage guests to feel fully relaxed and comfortable while walking around. For game days or movie nights, the television screen is discreetly secured to one side of the room.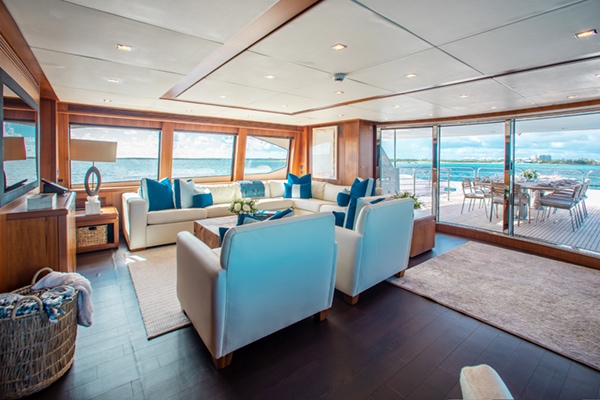 The upper salon is a relaxed space, designed with entertaining in mind. With cocktails and world class wine served from the well stocked bar, guests can kick back on her sofas to watch films, listen to music or play board games. The upper salon has a slightly nautical themed design and is reminiscent of a chic, Hamptons-style beach club, with cozy cushions and blue blankets that create a space ideal for an afternoon nap. A cool, air-conditioned space on board, guests can easily retreat to the upper salon to take a break from sunbathing on the oversized sunpad.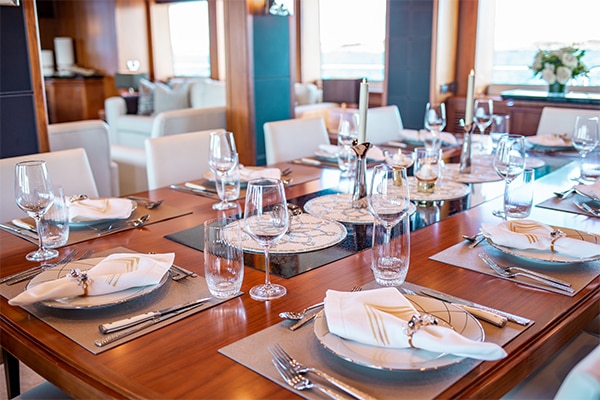 Delicious dining is one of the best parts of a yacht charter. Acacia offers several casual spaces to enjoy snacks and meals but her formal dining room will be home to many exquisite meals together. With a large rectangular table that seats 12, charter guests will experience unbelievable breakfasts, lunches and dinners prepared by Acacia's expert chef. In more casual set ups, the dining area is partially separated from the main salon so guests can continue to socialise while enjoying a seated meal.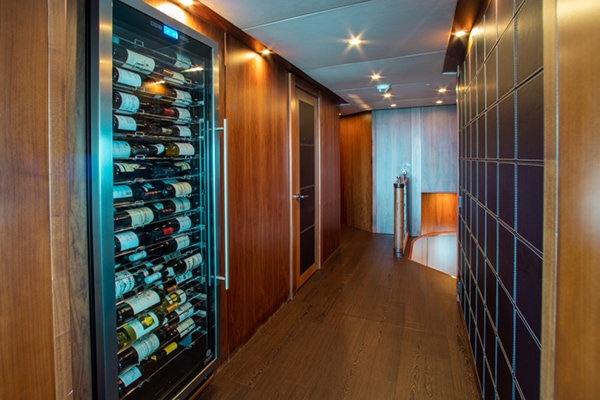 A Wine Connoisseur's Dream
For those in the charter who enjoy fine wines, Acacia benefits from a huge selection of wine, sherries and alcoholic beverages, many of which are displayed in her beautiful wine fridge. Peruse the on board selection, try something local to your cruising grounds or specifically request a favourite tipple ahead of time. Acacia's crew will be delighted to organise wine tastings and cocktail evenings for you and your charter group.
Explore the Wine Collection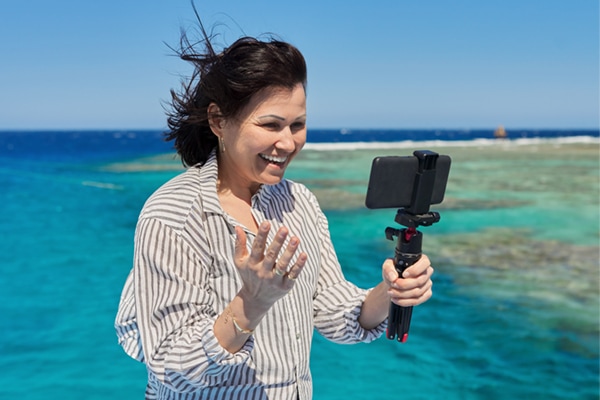 Acacia is a floating oasis of calm to take a break from the world. However, we understand that you need to keep connected to the real world. While on board guests can enjoy the state-of-the-art technology and equipment. Starlink Maritime with multiple high speed WiFi access points for laptops, iPads and phones, super-fast Crestron electronics, Apple TVs, an onboard computer, printer, scanner and satellite phone, and fax machine.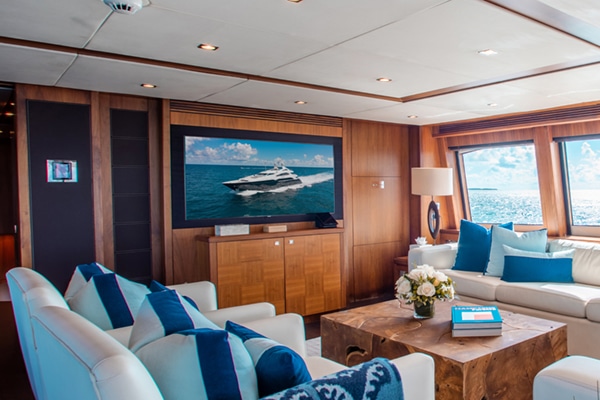 Get competitive with Acacia's selection of games and toys, including a four-person Nintendo Switch, Poker set, and selection of timeless board games. For a slower, more mindful activity, fuel your creativity with art, craft and coloring books. Guests can also catch up on their favourite TV shows, sports games and movies with all of Acacia's streaming services. Sit back and settle in with some popcorn while browsing DirectTV, HBO, Showtime, Starz, Apple TV+, Netflix,  Hulu, ESPN and Disney+.